Baby Lock Ellisimo Gold Sewing, Embroidery, Quilt Machine- Like Brother Quattro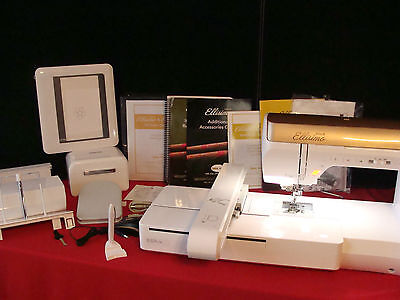 BABYLOCK ELLISIMO GOLD
SAME AS BROTHER QUATTRO
SEWING, QUILTING AND EMBROIDERY MACHINE
PROFESSIONALLY SERVICED BY TRAINED PROFESSIONAL TECHNICIAN PRIOR TO LISTING
Bonus*** Bonus*** Bonus
has 3rd upgrade-the continuous hoop IS included
Baby lock pictures of the continuous hoop and tablet are shown in pictures above!
See the self threader aspect of this awesome machine in action
http://youtu.be/bARW1vZaS1k
100%
WATCH THIS INCREDIBLE MACHINE IN ACTION TO SEE HOW BEAUTIFULLY IT WORKS WITH A VIDEO ON YOUTUBE:
http://youtu.be/yj6x8rHAoec
• TruView™ ASV LCD Color Touch Screen
• Shows 16,770,000 colors
• Measures 8.5" diagonally
• 176 degrees for optimum viewing
• NeedleCam™ Digital Camera for perfect embroidery and sewing positioning
• Center position scanning
• Precise Touch™ Positioning using NeedleCam
• OnScreen Designer
• Sketchpad tablet and electronic pen
• Color Visualizer for multiple thread options
• Stadium Lighting™ for brighter true color LED lighting on the needle and work area
• 3 USB drives; 2 (Type A) drives, 2.0 and 1.1 connects with a Mouse, Hub, Floppy drives, Flash drives and CD-Rom drives and 1 (Type B) USB direct connect to a PC
•
• Increased Processing Speed
• NeverMiss™ Automatic Threading System
• Advanced Pivoting Feature and Automatic Fabric Senor System
• Automatic thread cutter (with on/off capability)
• Quick-Set, Top-Loading bobbin with sensor
• Quick-Set Independent bobbin winding system with variable speed
• Automatic sensors
• Thread tension control makes tension adjustments for accurate stitches
• Upper and lower thread sensors on/off
• Upper and lower thread sensors to alert when threads run out
• On-screen hoop sensor to recommend size of hoop
• Access designs stored in folders when using USB type A
• Embroidery and sewing speed up to 1,000 spmEmbroidery Capabilities
• Built-in embroidery design library
• 557 Embroidery designs built-in
• 302 Baby Lock exclusives including 39 Nancy Zieman designs
• 14 bobbin work embroidery designs
• 120 Frame combinations
• 19 font styles including
• Exclusive script alphabet characters (75 total)
• Large Floral Alphabet
• Greek Alphabet
• Embroiders up to 8" x 12" (200mm x 300mm) embroidery field
• Memory capacity 2MB
• Reads embroidery designs with a stitch capacity of up to 500,000 stitches per design
•
TruView™ ASV Touch Screen shows:
• Design placement using drag and drop capabilities
• Enhanced realistic preview
• Design previews can be enlarged 200%
• Needle positioning grid
• Needle position image can be enlarged 200%
• Thumbnail images viewed at 150% the normal size
• Estimated embroidery time display and stitch count
• Needle advancement (1, 10, or 100 stitch increments)
Measurements displayed in inches or metrics

Color separation
• Thread color indicator
• On screen hoop size indicator
• Low bobbin thread indicator
• 300 color names
• Screen saver customization
• Embroidery speed up to 1,000 spm
• 8-Point trial check points
• Starting point key for instant alignment of characters or patterns
• Alternate bobbin case for pre-wound bobbins
• Customize embroidery pattern and thumbnail background colors (66 options)
• Resume feature
•
• On screen grid
• Cuts jump stitches (with on/off capability)
• Embroider without removing the foot control
Embroidery Editing Capabilities
• Combine embroidery designs on screen
• Character/text array function
• Character spacing
• 1°, 10°, and 90° Pattern rotation
• Enhanced design enlargement (up 200%)and reduction (down 60%)
• Design duplication
• Automatic appliqué
• Automatic basting
• Mirror imaging
•
• Change color selections within designs
• Color sorting on border designs
• Monochrome option for embroidery designs
• Programmable custom thread color selection
• Print and stitch capabilities
Advanced Sewing Features
• 682 Built-in stitches including
148 Utility including 15 one-step buttonhole styles and 1 four-step custom buttonhole
355 Decorative
79 Decorative satin
20 Satin
17 Cross
63 Combinable Utility stitches
• 3 Built-in alphabets
• 29 Quilting stitches offer 57 needle position options
• Stitch length 0.0mm - 5.0mm
• Basting stitch length of up to 30mm
• Maximum Utility stitch width 7mm
• Utility stitch editing capabilities
• 5 Memory settings for each Utility stitch
• Decorative stitch editing capabilities
• Edit and combine Character Decorative stitches
• 20 memory Pockets for Character/Decorative stitches equaling 800KB
Satin stitch elongation
• Edge sewing capabilities using NeedleCam™ Digital Camera
• Sew Utility and Decorative stitches while embroidery arm is attached
• Automatic drop feed
• Mirror-image
• Lock key for Utility and Decorative stitches
• Lateral and diagonal feeding
• Variable needle positions
• Fully automatic built-in darning
• Twin needle settings
Convenient Sewing Features
• Larger sewing bed and workspace equaling 50 square inches
• Convenient One-Touch Buttons for
• Start/Stop
Reverse sewing
Needle up/down
Thread cutter
Automatic presser foot lift
Automatic needle threading
• Sewing speed control
• Ergonomic 3-position, adjustable knee lift with extra high presser foot lift
10mm Automatic and 13mm Manual
• Programmable 3-step needle up/down
• Needle plate with scale in inches and centimeters
• Electronic foot control with separate power cord
• Free arm
• Two accessory storage compartments
Instructional and Help Resources
• Built-in Operational Guide with 11 built-in videos
• Built-in Sewing Application Guide
• Built-in Help Messages
• Embroidery Stitch Count System - .SCS
• Capability to save screen images
Downloadable Software
• Your Ellisimo Gold will stay current with future upgrades via USB connection
Included Accessories
• Sketchpad USB tablet and cordless pen
• Adjustable knee lifter with 3-position handle
• Baby Lock digital USB mouse
• Touch pen (stylus)
• LCD cleaning cloth
• USB cable
•
18 Snap-on presser feet :
Buttonhole x
Embroidery x
Overcasting x
Monogramming x
Zipper x
Zig zag x
Blind stitch x
Button fitting x
Free-motion quilting x
Free-motion open toe quilting x
Echo quilting x
Straight stitch x
Side cutter x
Blind stitch (with guide) x
Narrow hemmer x
Cording (with 3 cord guide) x
Vertical stitch alignment foot x
• Accessory case for presser foot storage
• Soft canvas cover for machine with 3 storage pockets
• Carrying case for embroidery unit
• 2 Thread spool stand for larger cones
• Straight stitch needle plate
• Alternate bobbin case for use with pre-wound bobbins
• Bobbin center pin
• Bobbins
• Cord guide bobbin cover
•Twin needle
• Embroidery hoops and grids included
8" x 12" (200mm x 300mm)
8" x 8" (200mm x 200mm)
4" x 4" (100mm x 100mm)
1" x 2-1/2" (20mm x 60mm)
100%MACHINE HAS BEEN TESTED PRIOR TO LISTING AND SHIPPING. IT PERFORMS PER MANUFACTURERS SPECIFICATIONS. SEE YOUTUBE VIDEOS, LINK LISTED ABOVE.
THE MACHINE WILL BE PACKED AS WELL AS HUMANLY POSSIBLE TO AVOID SHIPPING DAMAGE IN A HEAVY MACHINE BOX WITH STYROFOAM AND STYROFOAM PIECES. WE WILL SEND YOU PICTURES OF THE PACKED MACHINE PRIOR TO SEALING THE BOX FOR YOUR APPROVAL.
WE TAKE GREAT PAINS TO INSURE A SAFE SHIPPING, BUT WE HAVE NO CONTROL OVER UPS.
WE TRY TO INSURE OUR LISTINGS ARE AS ACCURATE AS POSSIBLE, BUT SOME TIMES WE MAKE MISTAKES. TO ERR IS HUMAN. THE ABOVE DESCRIPTION IS FROM THE MANUFACTURES LITERATURE. WE TRUST THEY ARE THE EXPERTS ON THIER PRODUCT.
WE DO NOT ACCEPT RETURNS, BECAUSE WE KNOW THE MACHINE WORKS AS IT SHOULD BEFORE IT LEAVES US, SO PLEASE READ THE MANUAL THOROUGHLY PRIOR TO USE OF THE MACHINE TO MAKE SURE YOU ARE FAMILIAR WITH THE PRODUCT. IN THE CASE OF BOBBINS, THIS MACHINE WILL ONLY OPERATE PROPERLY WITH THE PROPER BROTHER/BABYLOCK BOBBINS. ANY OTHER WILL DAMAGE THE MACHINE.
IN THE CASE OF BOBBINS, "CLOSE" IS NOT GOOD ENOUGH.
ONLY WHAT IS PICTURED OR LISTED IN THE AUCTION IS INCLUDED. NOTHING ELSE.
IN THE RARE EVENT OF A PROBLEM OR QUESTION, PLEASE EMAIL THROUGH EBAY ONLY. (WE GET SO MUCH SPAM AND JUNK MAIL ON THE OTHER EMAIL, WE OFTEN MISS SOME MAIL)
DON'T LET THIS ONE GET AWAY!
---
---
Sale Ends Soon