Janome / New Home Memory Craft 7000 Quilting * Sewing * Crafting Machine Mc7000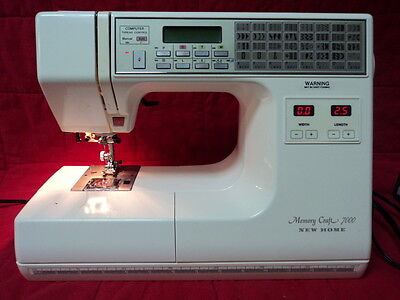 NEW HOME / JANOME MEMORY CRAFT 7000
Just serviced by a Certified Janome Technician and ready to Sew!
Your New Home / Janome 7000 is a dream of a sewing / crafting and quilting machine. Let's take a short tour of some of it's great features!!
Your Reverse button is located conveniently right above your needle. When you press and hold you will continue to sew in reverse. When you press reverse the machine will sew four stitches in reverseand four stitches forward and then stop sewing.
Your Janome / New Home Automatic needle threader is located right above your needle. You will love this feature. No more looking around for a magnifying glass so that you can see the eye of the needle to thread ** your automatic threader does it for you!!!
Above the throat of your Janome / New Home Memory Craft 7000 is your control panel.
Your Thread Tension button is located here, plus your Up/Down needle position button.
Other buttons located on the front of your machine are:
Program checking button
Clear Button
Turn-Over Memory Button
Memory Button
Locking Stitch Button
Low Speed Button
Elongation Button
Letter Style Selection Button
Visual Sewing screen
Your Pattern Selection Keys are located to the right of your function buttons. Look at all those stitches satin stitches, quilt stitches, pictograph stitches plus your alphabet. You can really have fun with all of these stitches. Customizing fashion, home decor, quilts and so much more with all of your decorative stitches. You can make quilt labels with your alphabets (Block and Script) and numbers. You can combine letters or characters up to 31 patterns.
WARNING MAY BE HABIT FORMING
Your Stitch length and width adjustments are located under your stitch menu.
Now that we have taken a small tour of some of the features of your New Home / Janome Memory Craft 7000 : let's see what accessories come with your New Home.
FEET:
Foot C: Overedge
Foot F: Satin Stitch
Foot M: Special Overcast
Foot D: Hemmer
Foot H: Cording
Foot G: Blind Stitch Hem
Foot E: Zipper
Foot J: Sliding Buttonhole
Foot N: Sensor Buttonhole
Foot P: Embroidery / Darning / Free Motion
Also included are spool caps, lint brush and Quilting guide
Where will you put all of your accessories? Your most popular feet has their own special spot on the top of your New Home / Janome sewing machine.
The rest of your accessories are stored in your removable accessory tray. When your accessory tray is removed your New Home / Janome Memory Craft 7000 is a free arm sewing machine. You will love this for sewing those decorative stitches on cuffs, also handy when hemming.
Also Included is your foot control / power cord and a copy of your Instruction Manual. Your Instruction Manual is excellent and goes into detail on all of your applications and feet and settings.
As an extra bonus you will receive the New Home / Janome Memory Craft 7000 Work Book. Your Work Book is chuck full of ideas and appications. A real bonus.
Your New Home / Janome Memory Craft 7000 is a perfect fit whether you are an experienced sewist or new to the world of creating with your sewing machine. Your Memory Craft 7000 gives you all the tools that you need to make one of a kind items. Home Decor, Fashion, Quilts, Crafts, Applique. Your Memory Craft 7000 is a top of the line machine that you will enjoy for many years to come!!
MEMORY CRAFT 7000
NEW HOME / JANOME
QUALITY SINCE 1860
THANK YOU FOR LOOKING AND BIDDING!!!
FREE SHIPPING TO THE LOWER 48 STATES
Sale Ends Soon