John Flynn Multi-frame Machine Quilting System For Most Sewing Machines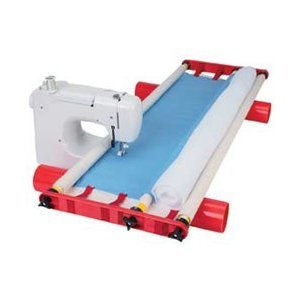 Description:
THIS IS A USED CUSTOMER RETURN
Multi-Frame System for ALL home sewing machines.
Keep your quilt at the proper tension with the Flynn Multi-Frame Quilting System. Use this 3-roll quilt frame with your sewing machine for no-baste free motion machine quilting, or hold it in your lap for hand quilting. Includes two roller pipes made of PVC, three fiberglass rods for rolling the quilt easily and smoothly, side tension ribbons, three muslin leaders, plus an instructional DVD.
This frame accommodates quilts up to 38" wide - an ideal size for wall hangings and to learn with. You can easily modify it to accept any quilt width by making new rods - simply purchase 3 pieces of metal conduit (EMT) of the desired length at your local lumber yard, and move the round nylon rod ends from your original 48" rods to the new rods using a Phillips screwdriver.
Because the frame itself does the moving, it can be used with virtually any home sewing machine.
Here are some of the features of this unique frame:
There is no basting with the Flynn Multi-Frame System.
The tension system tightens right to left or left to right so all the layers of the quilt sandwich are tight; independent of each other so there are no puckers in the quilt back.
The frame can be taken off the sewing machine and stored away, even with the frame ends removed, in just a matter of minutes.
The frame holds all the layers of the quilt out of the way so a quilter can concentrate on quilting instead of bunching, re-rolling or gripping the roll of quilt.
The Multi-Frame can be made any length a quilter needs by adding inexpensive, easy to find metal conduit (EMT) from the home improvement store.
Hand quilters use the very same no baste frame.
And this simple, inexpensive, expandable no baste frame is only $150.
Shipping / Handling / Insurance:
Shipping for this article:
US $ 15
Your purchase will leave our warehouse within 1-3 business days after payment clears.
We ship United States Postal Service & UPS.
We combine S&H.
---
Payment & Returns:
following payment methods are accepted:
Paypal - We are a verified business member with 1000+ complete transactions.
If you are not satisfied with your purchase, please Contact Us for a Return Material Authorization (RMA)
request within 14 calendar days of the receipt of the product.
Configure-to-order, personalized or other customized products may not be returned for refund
or exchange under any circumstances unless defective on arrival.
If the item is returned unopened in the original box, we will exchange it or offer you a refund based on your original method of payment.
The product must be returned to our warehouse within 14 calendar days of the issuance of the RMA.
All opened products must be packed in the original, unmarked packaging including any accessories, manuals,
documentation and registration that shipped with the product.
Returned items which received free shipping will have the actual shipping charge
plus a one dollar handling charge deducted from your refund.
A 10% restocking fee will be assessed on any returned unopened/new product.
For opened returns a restocking fee of 20% will apply. Shipping and Handling fees are not refundable.
International Customers: Beware of taxes and duties YOU might have to pay to your local customs.
Please note that the return for the following products is not permitted, unless unopened or defective on arrival:
- Embroidery Software, Hardware, Design CD's, Design Cards
Sales Tax Policy
All Oklahoma Residents are required by law to pay sales tax on all purchases.
Please Contact Us for tax exempt purchases.
Sale Ends Soon