Omnistitch Os-1000 Embroidery Machine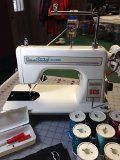 Omnistitch OS-1000 Custom Embroidery by Glennen
Embroidery....Embellisher....Quilter!!!!!
Runs Great!!!! Well taken care of. Normal wear on exterior (See pictures.) I kept up on the cleaning and oiling, Never had a problem with this machine!!! If you are creative, you'll never run out of things to make with this awsome machine! Included in this sale are as listed:
10 Feed Fingers (9 pictured and 1 attached to machine)
Free Motion Quilting foot
5 Bobbins
extra needles
Original Manual and other paper work and catalogs
12 Spools of decorative yarn
1 large spool of multicolored ribbon
Lg. Spool of Invisible Thread
Lg. wooden thread holder
Sm. case with tools
Foot pedal (not pictured)
Please email me with any questions.
Will only ship in USA.
Sale Ends Soon